Dravet Syndrome Market Drug, Insights and Market Assessment by DelveInsight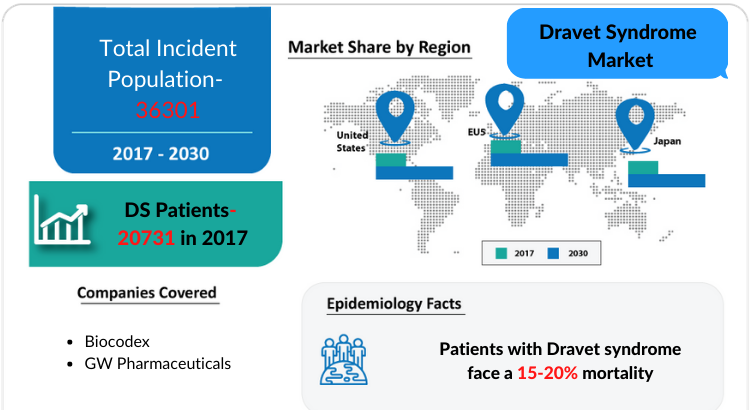 DelveInsight has launched a new report on "Dravet Syndrome Market"
Dravet syndrome (DS) is a rare, catastrophic, lifelong form of epilepsy that begins in the first year of life with frequent and/or prolonged seizures. It has been defined as a severe form of epilepsy characterized by frequent, prolonged seizures often triggered by high body temperature (hyperthermia), developmental delay, speech impairment, ataxia, hypotonia, sleep disturbances, and other health problems.
Request for free sample copy- https://www.delveinsight.com/sample-request/dravet-syndrome-market
The Dravet Syndrome market report provides an edge while developing business strategies, by understanding trends shaping and driving the global Dravet Syndrome market
Dravet Syndrome Treatment
Current treatment options are limited, and the constant care required for someone suffering from Dravet syndrome can severely impact the patient's and the family's quality of life. Patients with Dravet syndrome face a 15-20% mortality rate due to SUDEP (Sudden Unexpected Death in Epilepsy), prolonged seizures, seizure-related accidents such as drowning, and infections.
Dravet Syndrome Market Disease
Three stages are usually identified in association with DS with "Febrile stage" being the first among them, Worsening stage" follows between 1 and 5 years of age and "Stabilization stage" begins by the end of the first decade in which seizures are less frequent
The Signs and Symptoms of the disease involve seizures, ataxia (balance problems), motor impairment, cognitive impairment, behavioral problems, infections, bone problems, and heart rhythm irregularities.
Dravet Syndrome Companies
Biocodex
GW Pharmaceuticals
Dravet Syndrome Drugs
Despite these shortcomings, in recent years Dravet syndrome has received significant attention from the pharmaceutical industry, and the pipeline has matured to include not only symptomatic but also disease-modifying treatment. At present, Pharmacological management of Dravet syndrome focuses largely on the use antiepileptic drugs such as Valproic Acid, Clobazam, Topiramate, Levetiracetam, Zonisamide and Stiripentol.
Dravet Syndrome Report Highlights
In the coming years, Dravet Syndrome market scenario is expected to alter across the 7MM due shift of focus from symptomatic treatment and maturation of the pipeline to include disease-modifying treatment.
Our in-depth analysis of the pipeline assets across different stages of development (Phase II), different emerging trends and comparative analysis of pipeline products with detailed clinical profiles, launch date along with product development activities will support the clients in the decision-making process regarding their therapeutic portfolio by identifying the overall scenario of the research and development activities
Request for free sample copy- https://www.delveinsight.com/sample-request/dravet-syndrome-market
Table of content
1 Key Insights
2 Executive Summary of Dravet Syndrome
3 SWOT Analysis for Dravet Syndrome
4 Dravet Syndrome Market Overview at a Glance
5 Dravet Syndrome: Disease Background and Overview
6 Epidemiology and Patient Population
7 Country Wise-Epidemiology of Dravet Syndrome
8 United States
9 EU-5
10 Germany
11 France
12 Italy
13 Spain
14 United Kingdom
15 Japan
16 Treatment of Dravet Syndrome
17 Unmet Needs
18 Organizations contributing toward Dravet Syndrome
19 KOL's Views: Dravet Syndrome
20 Case Studies
21 Marketed Drugs
22 Emerging Therapies
23 Dravet Syndrome: Seven Major Market Analysis
24 Market Outlook by Country
25 Market Drivers
26 Market Barriers
27 Appendix
28 Report Methodology
29 DelveInsight Capabilities
30 Disclaimer
31 About DelveInsight
Reasons to buy
The report will help in developing business strategies by understanding trends shaping and driving the Dravet Syndrome market
To understand the future market competition in the Dravet Syndrome market and Insightful review of the key market drivers and barriers
Organize sales and marketing efforts by identifying the best opportunities for Dravet Syndrome in the US, Europe (Germany, Spain, Italy, France, and the United Kingdom) and Japan
Identification of strong upcoming players in the market will help in devising strategies that will help in getting ahead of competitors
Organize sales and marketing efforts by identifying the best opportunities for Dravet Syndrome market
To understand the future market competition in the Dravet Syndrome market
Related Reports
Media Contact
Company Name: DelveInsight Business Research LLP
Contact Person: Yash Bhardwaj
Email: Send Email
Phone: +919650213330
Address:304 S. Jones Blvd #2432
City: Las Vegas
State: NV
Country: United States
Website: https://www.delveinsight.com/