Purefine Nano smart water purifier converts tap water to Pure Clean water with unbeatable taste; surpasses its funding goal on Indiegogo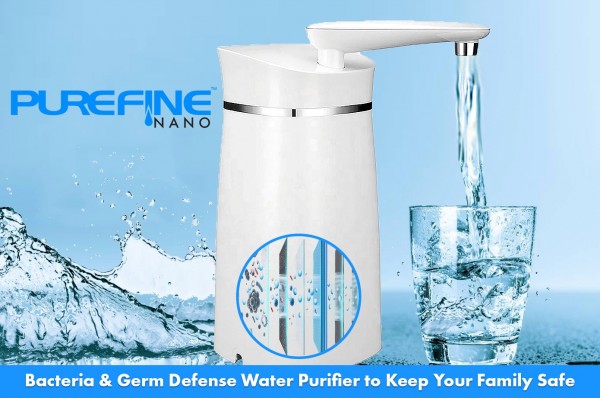 Purefine Nano 2nd generation is the new and improved upgrade to its original design, launched a few years ago. It can filter out up to 99% of bacteria, allergens, harmful impurities, and viruses to protect from allergies and diseases caused due to drinking polluted water. This water purifier can filter regular tap water to give pure water suitable for drinking, cleaning, watering plants and all other household purposes. Thanks to its innovative technology, the Purifine Nano water purifier has surpassed its crowdfunding goal on Indiegogo, with still a few weeks left till its end date.
What makes the Purifine Nano water purifier stand out from the rest is its unique design and functionality. Unlike the regular water purifiers that are often bulky, require a professional for installation and take quite some time in purifying water, the Purifine Nano is super compact, can be installed by anyone in just a few seconds and instantly provides clean drinking water directly from the tap. You can install it by yourself by attaching it to your tap in less than 10 seconds, and get the best tasting, pure water for drinking, cleaning, cooking, etc.
The current times have made everyone realize how a tiny virus can be so harmful and deadly to the human body. It becomes more important than ever to take the right steps for clean, hygienic living. Purefine Nano enables you to take a major step towards clean drinking water at home, without being too heavy on the budget or the environment. Through the super early bird reward, backers can get the Purefine Nano water purifier at a heavily discounted price of $99. It doesn't require any electricity to operate to get clean and pure water.
With the 360 degrees swivel, Purefine Nano can dispense water from any direction. The direct docking system on the tap eliminates any need to manually pour water. Inside it features the adopt UF technology and 4-stage water purification system to remove maximum impurities including chlorine, heavy metals, common pesticides, bacterias, and viruses. The large-capacity cartridge is equal to 20 traditional carbon filters.
Furthermore, Purefine Nano water purifier also eliminates the need for using single-use plastic bottles. If every household in the US alone replaces bottled water with Purefine Nano, it would eliminate about 78 Billion single-use plastic bottles.
Purefine Nano is available for pre-order through various rewards on its Indiegogo campaign page.
Media Contact
Company Name: PureFine
Contact Person: Christina
Email: Send Email
Country: United States
Website: www.indiegogo.com/projects/purefine-smart-water-purification-reinvented/x/23114483