3D Printing High-Performance Plastics Market Size, Future Opportunity, Geographical Regions and Industry Forecast To 2030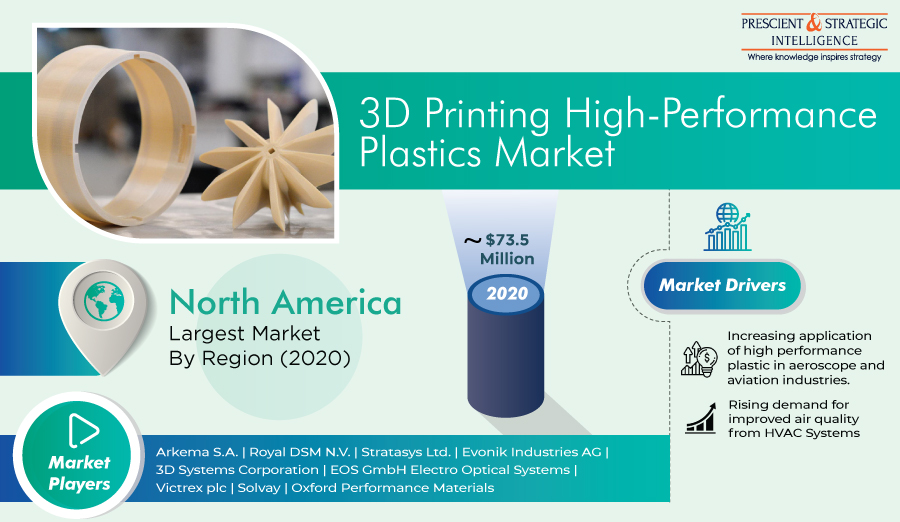 North America accounted for the largest share in the market for 3D printing high-performance plastics in the historical period (2015–2020), and it is expected to retain its position in the coming years.
The aerospace and aviation industries are increasingly using 3D printing high-performance plastics to produce aircraft components as they help in reducing weight, increasing strength, and developing complex and customized designs of such parts. The surging demand for aircraft to ferry a large number of passengers and extensive volume of goods will, therefore, create an extensive requirement for 3D printing high-performance plastics in the foreseeable future. With the soaring disposable income and worsening work-life balance, people are opting for air travel, owing to which the aerospace and aviation sectors are witnessing significant growth.
Moreover, the increasing shift of the industrial sector from traditional manufacturing to 3D printing is expected to contribute to the prosperity of the 3D printing high-performance plastics market during the forecast period (2021–2030). According to P&S Intelligence, the market generated around $73.5 million revenue in 2020. In comparison to traditional manufacturing, mass production through 3D technology is cheaper. Moreover, the deployment of 3D technology helps in the creation of complex shapes without additional costs and offers zero material wastage.
Request for sample pages of this report: https://www.psmarketresearch.com/market-analysis/3d-printing-high-performance-plastics-market/report-sample
At present, end users are using polyamide (PA), polysulfone (PSU), polyetherimide (PEI), polyamide-Imide (PAI), reinforced high-performance plastic (HPP), polyethersulfone (PES), polyphenylsulfone (PPSU), and polyetheretherketone (PEEK) and polyetherketoneketone (PEKK) to manufacture customized and complex components. In recent years, PA was consumed in the highest quantity due to exceptional shock resistance, stability, and rigidity exhibited by it. This 3D printing high-performance plastic is used in the production of medical prostheses, injection molds, and several components of aircraft, vehicles, and robots.
The application segment of the 3D printing high-performance plastics market is classified into functional part manufacturing, prototyping, and tooling. Among these, the prototyping category generated the highest revenue in 2020, and it is projected to maintain its dominance in the forecast years as well. This can be ascribed to the ability of 3D printers to rapidly create multiple replicas of a design through product testing, thereby, saving a considerable amount of money and time in running the tests with a functional prototype.
Browse report with detailed COVID-19 impact analysis on 3D Printing High-Performance Plastics Market Size and Growth Forecast to 2030
Globally, the North American 3D printing high-performance plastics market generated the highest revenue during the historical period (2015–2020), and it is expected to continue witnessing this trend during the forecast years as well. This dominance can be ascribed to the increasing research and development (R&D) investment, owing to the surging focus of market players on technological advancements in the region. Besides, the flourishing automotive, aerospace, and robotics sectors will also contribute to the regional market growth.
Thus, the expanding aerospace and aviation industries and the rising preference for 3D technology over traditional manufacturing will encourage the adoption of 3D printing high-performance plastics worldwide.
Market Size Breakdown by Segments
By Type
Polyamide (PA)
Polyetherimide (PEI)
Polyetheretherketone (PEEK) & Polyetherketoneketone (PEKK)
Reinforced High-Performance Plastic (HPP)
By Form
By Application
Prototyping
Tooling
Functional Part Manufacturing
By Region
North America
Europe

Germany
France
U.K.
Italy
Spain

Asia-Pacific (APAC)

Japan
China
India
Australia
South Korea

Latin America (LATAM)
Middle East and Africa (MEA)

Saudi Arabia
South Africa
Browse Other Related Reports
3D Printing Materials Market – Geographically, the 3D printing materials market would exhibit lucrative growth in Europe and North America in the upcoming years, as per the estimates of P&S Intelligence, a market research company based in India.
3D Printing Filaments Market – The 3D printing filament market stood at $693.1 million in 2019, and will reach $7,082.0 million by 2030, registering a 26.8% CAGR during 2020–2030.
Media Contact
Company Name: P&S Intelligence
Contact Person: Abhishek
Email: Send Email
Phone: +918887787886
Address:Noida Sector 2
City: Noida
State: UP
Country: India
Website: https://www.psmarketresearch.com/market-analysis/3d-printing-high-performance-plastics-market