Ellen Alexander releases new song and music video Titled "Good Girl Go"
Ellen Alexander, the famous American model with Russian roots, actress, and singer, who you could see in cult magazines like L'Officiel, SHAPE, VOGUE, is climbing the musical Olympus by leaps and bounds. She recently released two new songs. One of them really surprised the fans of Ellen's work. Why? Now Ellen will tell herself: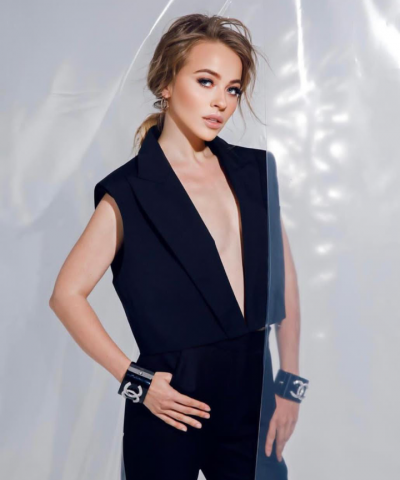 – You did an amazing thing: first you released a song, then remade it and released it again. Considering that there are about three hundred new songs waiting for their turn on the release, tell me why you decided to take this step?
– It's all about the state in which I wrote Good Girl Go. For me, songs are partly a way of reflection. When I broke up with my boyfriend, with whom we met for a long time, I directed all my emotions into music. Then I created several songs, which I now release. "Good girl go" for me is one of the most iconic songs of that period and that state. Now that I am completing this phase of my life, I have decided to re-release it. After all, I'm already different, which means that the song should sound differently.
– When I heard the new version of Good Girl Go, the first thing I said was: "How has she changed!" You have done a great job. What is new in the sound of this song?
– I didn't like the original production work done on the first version. Now I did everything as I wanted. When I write songs, I immediately make at least two versions of their sound. And the second version of "Good girl go" I recorded and released for the sake of experiment, and I'm very glad that it was a success. The sound has become clearer, the lyrics are more interesting, the music itself is lighter.
– Now you really want to dance to Good Girl Go. It became much lighter. Tell, what mood does it create now?
– In essence, the mood remained the same. But now my energy and life position sounds much brighter in it. I can't suffer. I am very light; one might even say carefree. My suffering very quickly grows into something useful and beautiful. I can't sit and worry for a long time; I don't like to make myself more burdensome. I think that I will never be able to stay in a depressed state. There is no malice or anger in me. If something bad happened, then it was necessary. And it often happens that fate really takes me away from serious problems. And when I understand this, I realize that it was foolish to spend so much time and energy on suffering. My glass is always half full, even if there is nothing left in it. Therefore, "Good girl go", although an extremely sad song, still sounds in major. Because I always sound in a major.
– The lyrics have also changed, right? What has changed? And has the meaning of the song changed entirely?
– Yes, the lyrics have changed too. I initially had two options. Here, I'm pretty good at the text and its meaning. But I won't tell you much, you'll hear for yourselves.
– Where do you see this song? Say, in the headphones of a girl who's out for a run? Or is it played on the radio in the car standing in the morning traffic?
– I see it everywhere, as any author would. I want it to go out into the world, and there to give it spirits to others.
– It's amazing how two different songs you decided to release together. Deep, perhaps even tragic Heartless and bright, joyful Good Girl Go. Is that what you had in mind?
– These are songs that I wrote in the same time period and in the same state. Now I'm finalizing and getting ready to release exactly the songs I wrote back then. I only have about 10 of them. As soon as I'm done with them, I'll move on. But I'm releasing them now because they are all connected by one thought, one emotion.
– How do you feel about the experience of making danceable, bright, and light music? Did you like it? Do you plan to continue developing in this direction?
– Yes! I can't wait to finish the serious, deep, and emotional songs so I can do something bright, fun, rousing. I already have a song with Latin American motifs lined up. I'm just in the mood to stop being depressed, quarantine is over, and it's time to dance.
– Are the two versions two independent compositions or two sides of the same coin?
– All my released songs are one medal, just different sides of it. This, as I said, is one story that I've looked at through the lens of my art from all angles and all facets.
– Should we wait for the new video for the new version of Good Girl Go?
– I'm still thinking. I think I'll definitely do something new, but maybe I'll use the visuals from the old clip. We have a lot of beautiful shots and interesting decisions left over from the shooting that we had to cut from the first version.
– Are you planning any new changes in the other songs that have come out?
– Not yet. I'm a perfectionist, of course, and I want everything to be perfect. But I try to hang in there. I have so many songs waiting to be written! If I release two versions of every song I've written, there's not enough life to go around.
– What are your future plans now? What area of life do you want to pay more attention to? After all, you now have a blog, and your own store, and a full-fledged music career, and you're also a successful model. What will you throw more energy at?
– I plan to have time for everything. But my priority is an acting career. Still, I came to America to be an actress, but since I came with nothing, I had to get on my feet first. Now that I'm firmly in control, I have everything and I feel confident, I'm ready to start devoting more time to my film career.
– And I wish you success in this! Thank you for the interview!
Connect with Ellen Alexander on Spotify, Instagram and watch the latest music videos on Youtube.
Watch "Good Girl Go" official music video:
Video Link: https://youtu.be/NDy-tJSDVJY
Listen to "Goof Girl Go" on Spotify: https://open.spotify.com/track/6PziDgzOvH4dThyNwbVYN2
Ellen Alexander's Instagram: https://instagram.com/ellen.alexander?igshid=16q4s3jn4nf3m
Media Contact
Company Name: GDP Music Group
Contact Person: Ellen Alexander
Email: Send Email
Country: United States
Website: https://ellenlifestyle.com/