UVRoboclean: Autonomous sterilizing robot cleans any surface or object with UV light technology used in hospitals
Video Link: https://www.youtube.com/embed/GvJHH7ltG20
Hospitals use UV light robots to sterilize and disinfect rooms and surfaces to prevent the replication of harmful bacteria and viruses. The founders of Smartify have used the same technology to create UVRoboclean, a smart and compact autonomous sterilizing robot that patiently cleans any surface and object. Amidst the COVID-19 crisis, and with increasing concerns of sanitization, Smartify has launched a Kickstarter campaign for their latest innovative product, using minimum resources available right now.
UVRoboclean is the much needed technological solution for the workplace and home sterilization. It is easy to use and cleans any surface it is placed on, all by itself. Using smart sensors, it can detect surface edges and automatically makes a turn, without any risk of falling off. It can be used on any flat surface in the kitchen, bathroom, living room, bedroom, etc., to destroy up to 99.98% of viruses and bacteria.
Unlike the regular home cleaners that use harmful chemicals and odors, UVRoboclean uses the nature-inspired, powerful ultraviolet light encased in a durable and compact plastic shell. It can also be used as a handheld cleaning device to sterilize laptops, mobile phones, delivery packages, groceries, baby toys, gym equipment, luggage, and other objects or surface.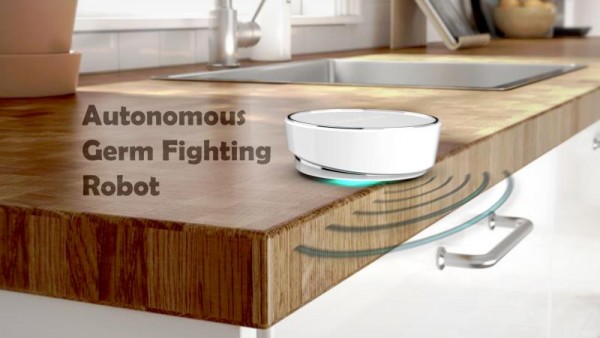 A study by Columbia University states that the UV-C light is effective at killing antibiotic-resistant bacteria. UVRoboclean uses UV-C light to impact the DNA of viruses and bacteria for destroying it. It is equipped with an eye-safe gravity switch, which powers down the UV-C sanitizing bulb when it is flipped upside down. The device comes with high capacity rechargeable batteries that can operate for up to 4 hours on a single charge. Another advantage of UVRoboclean is that it can reach to nooks and corners of the surface due to its compact size.
The retail price of UVRoboclean is estimated to be $149 but the early Kickstarter backers can grab the device at a discounted price of $79. By pledging for $99, the backers can get a UVRoboclean device and 4 KN95 masks as a reward. The pack of two UVRobocleans is available for a price of $130 for the backers.
The dedicated backers can also opt for the $150 reward to get 2 units of UVRoboclean device and four KN95 masks. Those who just want to support the campaign without buying the device can contribute $10 or more and get one KN95 mask as a reward.
The campaign is for the US backers only and the expected delivery of the product is in November 2020. KN95 Masks will be delivered immediately.
More information about the product can be found at its Kickstarter page.
Media Contact
Company Name: Smartify
Contact Person: Mike Katz
Email: Send Email
Country: United States
Website: uvroboclean.com/