Hemophilia B Epidemiology Forecast to 2030

DelveInsight has launched a new report on Hemophilia B Epidemiology and Market Forecast-2030
DelveInsight's 'Hemophilia B – Epidemiology Forecast to 2030' report delivers an in-depth understanding of the disease, historical and forecasted Hemophilia B epidemiology in the 7MM, i.e., the United States, EU5 (Germany, Spain, Italy, France, and the United Kingdom), and Japan.
Hemophilia Bis a genetic disorder caused by missing or defective Factor IX clotting protein.With the lack of this, the blood cannot clot properly to control bleedinglike hemophilia A, it is also inherited and is caused by a spontaneous genetic mutation in one-third of the cases. Individuals with hemophilia B do not bleed faster than unaffected individuals, they bleed longer.
It is caused by an inherited X-linked recessive trait, with the defective gene located on the X chromosome.A male who has a hemophilia gene on his X chromosome will have hemophilia. When a female has a hemophilia gene on only one of her X chromosomes, she is a "hemophilia carrier" and can pass the gene to her children. Sometimes carriers have low levels of clotting factor and have symptoms of hemophilia, including bleeding. Clotting factors are proteins in the blood that work together with platelets to stop or control bleeding.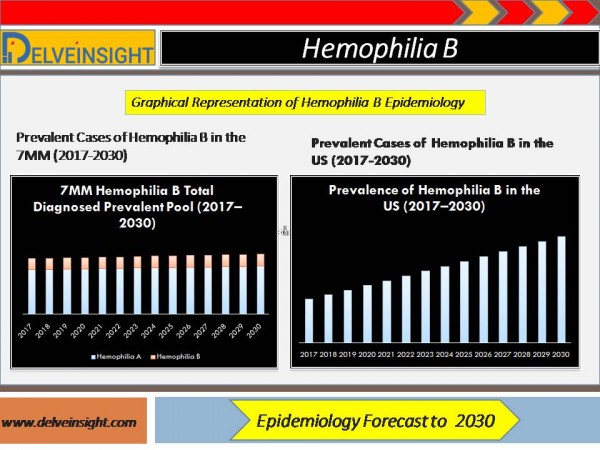 Request for :- free sample page
Understanding
The DelveInsight Hemophilia B epidemiology report gives a thorough understanding of the Hemophilia B by including details such as disease definition, symptoms, causes, pathophysiology, and diagnosis. It also provides treatment algorithms and treatment guidelines for Hemophilia B in the US, Europe, and Japan. The report covers the detailed information of the Hemophilia B epidemiology scenario in seven major countries (US, EU5, and Japan).
Epidemiology Perspective
The Hemophilia B epidemiology division provides insights about historical and current patient pool and forecasted trend for every seven major countries. The Hemophilia B epidemiology data are studied through all possible division to give a better understanding of the Disease scenario in 7MM. The Hemophilia B epidemiology segment covers the epidemiology data in the US, EU5 countries (Germany, Spain, Italy, France, and the UK), and Japan from 2017 to 2030. It also helps to recognize the causes of current and forecasted trends by exploring numerous studies, survey reports and views of key opinion leaders.
Report Highlights
11-Year Forecast of Hemophilia B epidemiology
7MM Coverage
Total Cases of Hemophilia B
Total Cases of Hemophilia B according to segmentation
Diagnosed cases of Hemophilia B
Reports Key facts:-
1. According to the World Federation of Hemophilia (WFH), the total number of cases around the World for Hemophilia B in 2018 was 34,289.
2. Centers for Disease Control and Preventionstates Hemophilia occurs in about 1 of every 5,000 male births and Hemophilia A is about four times as common as hemophilia B, and about half of those affected have a severe form. Hemophilia affects people from all racial and ethnic groups. Additionally about 3 in 100 people with hemophilia B develop an inhibitor to the treatment product used to treat or prevent their bleeding episodes.
3. As per Santoro, Cristina, et al., 2018, the development of an inhibitor in Hemophilia B is a rare event i.e., 1.5–3% of all patients but is associated with a significant morbidity, related not only to the bleeding risk but also to the frequent occurrence of allergic reactions and nephrotic syndrome.
Key companies working on Hemophilia B that are given below:-
1. Novo Nordisk Pharma Co.
2. CSL Behring Pharma Co.
3. Bioverativ Therapeutics (a Sanofi acquired company)
Drug names are given below:-
1. Rebinyn
2. Idelvion
3. Alprolix
1. Key Insights
2. Executive Summary of Hemophilia B
3. Hemophilia B: Disease Background and Overview
3.1. Introduction
3.2. Sign and Symptoms
3.3. Pathophysiology
3.4. Risk Factors
3.5. Diagnosis
4. Patient Journey
5. Epidemiology and Patient Population
6. Treatment Algorithm, Current Treatment, and Medical Practices
6.1. Hemophilia B Treatment and Management
6.2. Hemophilia B Treatment Algorithm
7. KOL Views
8. Unmet Needs
9. Appendix
9.1. Bibliography
9.2. Report Methodology
10. DelveInsight Capabilities
11. Disclaimer
12. About DelveInsight
Why should you buy this report?
The Hemophilia B Epidemiology report will allow the user to –
Develop business strategies by understanding the trends shaping and driving the global Hemophilia B market
Quantify patient populations in the global Hemophilia B market to improve product design, pricing, and launch plans
Organize sales and marketing efforts by identifying the age groups and sex that present the best opportunities for Hemophilia B therapeutics in each of the markets covered
Understand the magnitude of Hemophilia B population by its epidemiology
The Hemophilia B Epidemiology Model developed by DelveInsight is easy to navigate, interactive with dashboards, and epidemiology based with transparent and consistent methodologies. Moreover, the model supports data presented in the report and showcases disease trends over 11-year forecast period using reputable sources
Related Reports:-
1. Hemophilia B- Market Insight, Epidemiology and Market Forecast -2030
2. Hemophilia A – Pipeline Insights, 2020
Media Contact
Company Name: DelveInsight Business Research LLP
Contact Person: Yash Bhardwaj
Email: Send Email
Phone: +919650213330
Address:304 S. Jones Blvd #2432
City: Albany
State: New York
Country: United States
Website: https://www.delveinsight.com/