Denmark Organic Food Market will be an opportunity of USD 8.2 Billion by the year 2025
Denmark Organic Food Market by Products (Beverages, Cereal and Food Grain, Meat, Fish Poultry & Eggs, Processed Food, Spices & amp; Pulses, Fruits & Vegetables, Others), Distribution Channels (Grocery Sector including Online Sales, Mini Markets and Miscellaneous, Health Food Stores, Food Services), End Users and Company Analysis (Arla Foods Amba, Daish Crown, Midsona Danmark A/S).
Denmark is a shining example and a source of inspiration worldwide, both in the scope and innovative approach of its organic policy. Almost 80 percent of Danes purchase organic food. Denmark's market share in organic products is the highest in the world. In Denmark, the consumption of organic foods has moved from the luxury goods segment towards mainstream consumption. By 2020, the Danish government has a plan to double the areas cultivated using organic and biodynamic practices. Besides, the program aims to make Denmark go completely natural. Over the last decade, the development of Organic Action Plans (OAPs) has gained momentum as a mechanism for achieving a more integrated approach to organic policy-making at the European level. Trusting and robust collaboration across the public and private sectors have provided a solid foundation for this growth. Denmark Organic Food Market will be an opportunity of USD 8.2 Billion by the year 2025.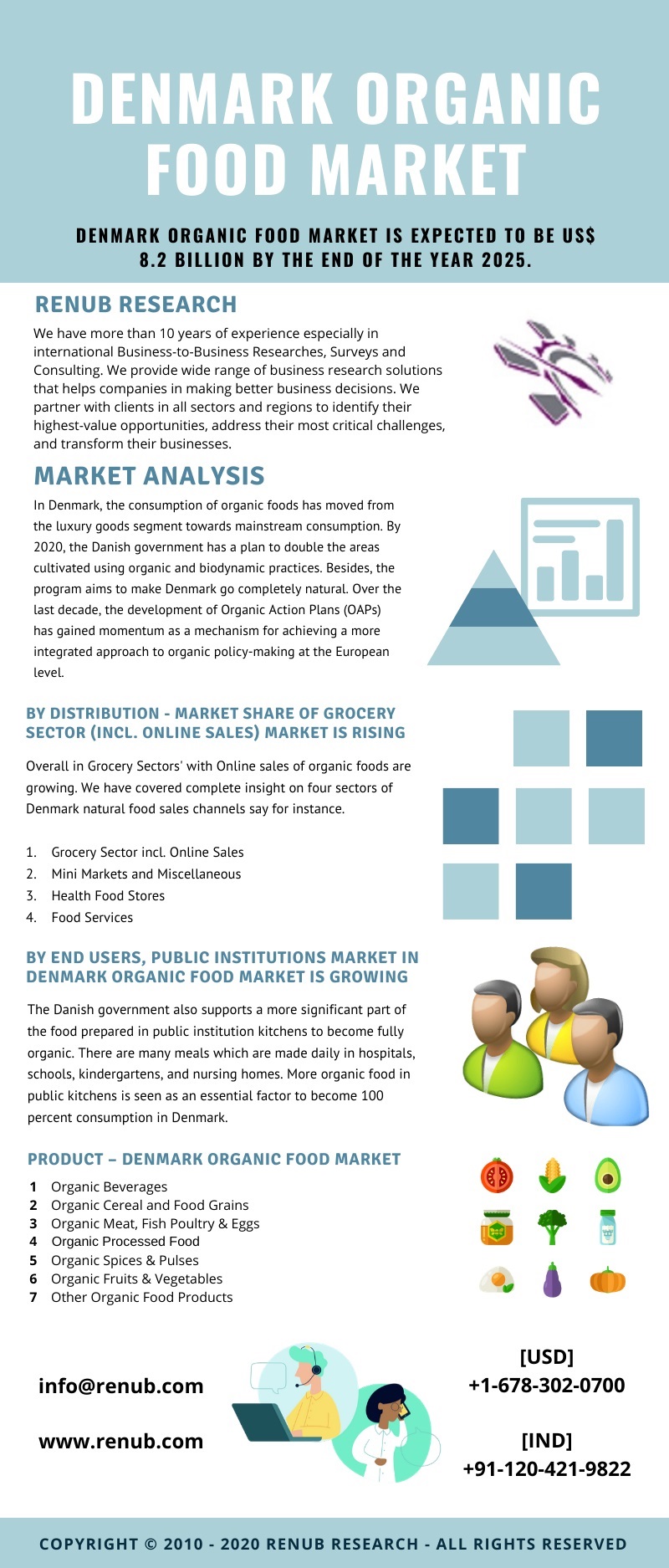 By Product – Organic Fruits & Vegetables Market holds the majority of the market in the Denmark Organic Food Market
Organic fruits and vegetables are the largest and fastest-growing sector of the Danish organic food market. The increasing demand for organic fruits and vegetables is primarily due to its increased production and growing consumption. In Denmark, there is also a high consumption of organic foods & beverages like fruit, vegetables, yogurt, and other dairy products as well as meat.
By Distribution- Market share of Grocery sector (incl. online sales) market is rising
Grocery Sectors' overall sales of organic foods are growing. Amazon is famous in Denmark for purchasing online organic food. Danish people also use second-hand buying and selling websites. The most popular in this category are LetGo and DBA. There are also two well known online platforms for organic foods in Denmark are kateandkimi.com and fieldschina.com.
Request a free Brochure copy of the report: https://www.renub.com/request-brochure-page.php?gturl=denmark-organic-food-market-p.php
By End Users, Public Institutions market in Denmark Organic Food Market is growing
The Danish government also supports a more significant part of the food prepared in public institution kitchens to become fully organic. There are many meals which are made daily in hospitals, schools, kindergartens, and nursing homes. More organic food in public kitchens is seen as an essential factor to become 100 percent consumption in Denmark.
Daish Crown market share is growing among other Companies
Daish Crown Company market share is rising year on year in Denmark. The company has taken many initiatives for development in the organic food sector say, for instance, launching a growth package to encourage farmers to invest more in producing pigs. It also introduced an app for a digital solution for the farmer.
Renub Research Infographic Zone: https://renubresearchinfographiczone.blogspot.com/
If the information you seek is not included in the current scope of the study kindly share your specific requirements with our custom research team.
Browse Related Reports:
Contact Us
Email: [email protected]
Phone: +1-678-302-0700
Web: www.renub.com
Key Topics Covered :
1. Introduction
2. Research & Methodology
3. Executive Summary
4. Market Dynamics
4.1 Growth Drivers
4.2 Challenges
4.3 Opportunities
5. Policy – Denmark Organic Food
6. Denmark Organic Food Market Analysis
7. Market Share – Denmark Organic Food
7.1 By Product
7.2 By Distribution Channels
7.3 By End Users
7.4 By Company
8. Product – Denmark Organic Food Market
8.1 Organic Beverages
8.2 Organic Cereal and Food Grains
8.3 Organic Meat, Fish Poultry & Eggs
8.4 Organic Processed Food
8.5 Organic Spices & Pulses
8.6 Organic Fruits & Vegetables
8.7 Other Organic Food Products
9. Distribution Channels – Denmark Organic Food Market
9.1 Grocery Sector incl. Online Sales
9.2 Mini Markets and Miscellaneous
9.3 Health Food Stores
9.4 Internet Retailing
9.5 Food Services
10. End Users – Denmark Organic Food Market
10.1 Public Institutions (Hospitals, Kindergardens, Educational, etc.)
10.2 Canteens in Public Sector Work Place
10.3 Canteens in Private Sector Work Place
10.4 Hotels, Restaurants, Cafes etc
10.5 Others
11. Mergers and Acquisitions
12. Company Sales – Denmark Organic Food Market
12.1 Daish Crown
12.2 ARLA FOODS AMBA
12.3 MIDSONA DANMARK A/S
13. Conclusion
About Us:
Renub Research is a Market Research and Consulting Company. We have more than 10 years of experience especially in international Business-to-Business Researches, Surveys, and Consulting. We provide a wide range of business research solutions that helps companies in making better business decisions. Our clients rely on our market analysis and data to make informed knowledgeable decisions. Our pertinent analysis helps consultants, bankers and executives to make informed and correct decisions.
Media Contact
Company Name: Renub Research
Contact Person: Rajat Gupta
Email: Send Email
Phone: 16783020700
Address:225 Kristie Ln
City: Roswell
State: GA
Country: United States
Website: www.renub.com/food-beverage-and-agriculture-3-c.php